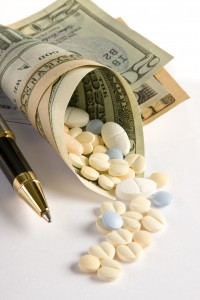 Back in February, I wrote a Reality Health Check on the rising–and staggering–cost of having diabetes. Namely, if you have diabetes, the cost of treating it has doubled in the past few decades.
Now researchers have estimated that the cost of diabetes in kids is just as high as it is for adults. And as the diabesity epidemic rises, these costs are only going to increase.
Whether you have kids or not, the cost of taking care of the growing number of children and adults with diabetes increases the health insurance costs for everyone.
There was a time when employers used to pick up a much bigger piece of the health insurance tab. That's because it was cheap. But not anymore. Millennials (who make up the largest percentage of the work force), as well as those previously uninsured before the Affordable Care Act, know of nothing but expensive health care. This leads to people not having money for other things like clothing, education, or even food.
It's a disgrace. We've eaten our way into a preventable epidemic, without thinking about the overall economic impact it has on all of us. Think higher taxes, higher health premiums, co-pays, and deductibles.
So exactly how much money are we talking about here?
According to the latest report…those with type 1 or type 2 diabetes who were covered by employer-sponsored health insurance had more than three times the medical costs of those without diabetes. In 2013, the average healthcare claim per person was $14,999 for people with diabetes vs. $4,305 for those without diabetes.
And what about those costs of care in children? The average per capita claim for infants to 18-year-olds with diabetes was $15,456, vs. $16,889 for 55- to 64-year-olds.
And of course, while people get sicker and sicker…the drug companies push more expensive drugs and are pocketing more and more along the way.
It's truly heartbreaking, when I know after decades of working in this field and with thousands of patients, just how preventable all of this is.
If we can win the war against tobacco and the grave illnesses that causes, we must take the same measures in our war against diabesity. This is especially critical when it comes to our kids and grandkids.
Realistically speaking, I know it's not easy when you're up against our fast food, sugar-filled culture. With such easy access to sweet drinks and sodas and such poor choices even in our schools. But it's worth the effort, and something you have to do every day: keep junk food out of your home, send your kids to school with a healthy lunch (think roast turkey or grilled chicken, string cheese, avocado, and even some dark chocolate for dessert), and teach them the value of making healthy choices on their own.
We have to lead by example. Even if that means no pizza for dinner and sugary cereal for breakfast. For more on fighting the good fight for our kids, see my book Feed Your Kids Well.
Source:
"Cost of Diabetes in Kids Equates to That in Older Adults." Medscape Medical News, May 11, 2015 http://www.medscape.com/viewarticle/844474
Health Care Cost Institute. Issue brief 10. Published online May 7, 2015.http://www.healthcostinstitute.org/files/HCCI%20Diabetes%20Issue%20Brief%205-7-15.pdf