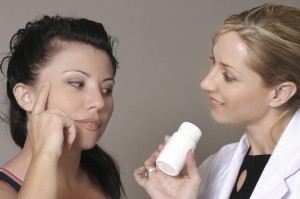 I really couldn't wait to tell you about this story. Because when I read the first line, it actually made me laugh out loud: More than half of supplement users rely on their doctors for information on what products to use and how to use them.
This conclusion came from a recent survey conducted by the Council for Responsible Nutrition (CRN). And it's proof positive of a pretty sad state of affairs in this country.
I mean, are you kidding me? I could probably get better recommendations from my dog Remington than I would from 99.9 percent of the primary care physicians in the U.S. Because the vast majority know nothing about the subject.
I would say the average physician probably knows about vitamin D. (Although he or she will almost certainly tell you to take too small a dose.) And they may know about fish oils—or even vitamin E (which they would probably tell you to stop taking).
But that's about it.
Unfortunately, most medical schools only give nutrition a passing mention—much less bother to teach about nutritional supplements. And the only widely disseminated information is typically the wrong information. While only the negative studies make the headlines. (Unless you happen to be reading my newsletter, of course.)
The well-informed supplement user, like you—or anyone who's done their homework and knows the story outside of what you see on the nightly news—will most likely have exceeded their doctor's knowledge. And that's just sad.
Especially since this same survey also found that supplement users are more likely to schedule routine doctor visits than non-users. In fact, 74 percent of supplement users responded that they saw their doctor regularly. (The figure for non supplement users was a lot lower—just 66 percent.)
Which really just confirms what I already know to be true. People who take nutritional supplements care about prevention—and they're proactive about staying healthy.
In fact, I would bet that if this survey had gone deeper, it would have found that supplement users also exercise more, smoke and drink less, sleep better… and absolutely eat better.
But I can almost guarantee you that they're not learning about this stuff at their annual physical. I mean, when was the last time your doctor asked you about what you ate? (A question every single one of my patients gets at every single appointment.)
It's a shame so many patients who are making an active effort to live healthier lives end up on the receiving end of confusing, insufficient—and often outright bad—advice.
I can't tell you how many times patients have confessed to me that they won't even tell their other physicians what supplements they're taking. Because they either get ridiculed, or are patronizingly "informed" that all supplements give you is expensive urine. (As if you couldn't say the same thing about most pharmaceutical drugs.)
I've even heard from people whose close-minded doctors told them "you can't be my patient if you continue to use nutritional supplements."
Honestly, I don't know what kind of "open dialogue" you can have with any physician who is this ignorant of nutritional medicine. But unfortunately, they're all over the place. And it's a dangerous situation—because supplements are active substances. And they can interact with prescription medications.
So here's what I tell my patients to do…
First off, come to every visit with a list of all of the supplements you are taking. (I often ask my patients to bring this list along, so I can see exactly what they're taking.) Your doctor needs to know this, along with what prescription and over-the-counter drugs you're taking.
Next, always ask about potential drug interactions with the nutritional supplements you're currently taking (or ones you're considering taking). Again, this is critically important.
And if your doctor is unwilling or unable to answer your questions? It's time to consider seeing a different physician. The good news is, there are plenty of integrative doctors who do understand the importance of supplements. The American College for Advancement in Medicine (800-532-3688, www.acam.org) and the International College of Integrative Medicine (419-358-0273,www.icimed.com) are two great resources that can help you find one in your area.
Source:
Schultz, Hank. "More than half of supplement users rely on doctors for advice on how to use products, survey finds." Nutraingredients-usa.com. 28 May 2014.