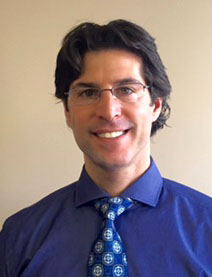 Jamie Gabel is a nationally certified New York State licensed Physician Assistant who specializes in the treatment of musculoskeletal related injuries. He applies an integrated non-operative approach to managing muscle, tendon, ligament and joint conditions. Some of the services Jamie provides include prolotherapy, trigger point injections, prolozone injections, PRP injections, neural therapy, hyaluronic acid injections, ozone therapy and stem cell therapy.
Jamie received his undergraduate Bachelor of Science degree in Athletic Training and Sports Medicine from Hofstra University. He went on to work as an athletic trainer for 13 years providing acute and rehabilitative care to competitive athletes of all levels. In his early years he worked with collegiate athletes from Hofstra University and C.W.Post College. In 1997 Jamie was asked to work in the NFL with the New York Jets as well as the professional indoor lacrosse team, the New York Saints. In 1998 he was hired by the United States Tennis Association to work on the professional circuit. He treated hundreds of tennis professionals including Andy Roddick, James Blake, and the Bryan brothers. In 2005 through 2010 Jamie was independently contracted with top professionals including Robby Ginepri, Svetlana Kuznetsova and Tommy Haas to tour on the ATP professional tennis circuit. In 2008 he was asked to be the team athletic trainer for the Israeli Davis cup team. He traveled to 17 different countries and half of the United States, meeting many different medical practitioners, which fueled his interest in alternative medicine.
Jamie went on to receive a Master's degree in Physician Assistant studies from Touro College in New York. He has honed his skills and knowledge working in orthopedic surgery for the past 3 years, and he is an associate professor at Pace University, teaching orthopedics. He continues to take courses from some of the top alternative medical doctors around the country, learning cutting edge integrated medicine techniques. Jamie was elated when he was asked to join Medicine 369 to use his skills along side with world-renowned physician Dr. Fred Pescatore.