Last year on my mission trip to Rwanda, I was fortunate enough to spend a few days on a tea plantation. It was spectacularly beautiful with the greenest of greens as far as the eye could see.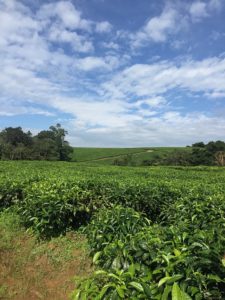 Just being there calmed me down and buoyed my mood. I get a similar feeling every time I sit down with a nice hot cup of tea.
But those aren't the only benefits. In fact, I recently came across a new study showing just how good tea is for you…
Researchers from the National Institutes of Health looked at data from an ethnically diverse cross section of more than 6,500 patients. Subjects were both men and women, from six different university health centers — all participants of the Multi-Ethnic Study of Atherosclerosis (MESA) and between the ages of 44 and 84 years old.
For this investigation, researchers asked about coffee and tea (either black or green) intake.
Coffee was clearly the beverage of choice, with just over half of the subjects saying they drank a cup or more every day. Only around 13 percent drank at least one cup of tea per day. And while coffee certainly has plenty of health perks of its own, it turns out that strict "coffee-only" drinkers may be missing out on some important heart benefits…
The researchers assessed subjects' levels of coronary artery calcium — a test that tells you whether you have coronary arterial plaque, from the cellular level. It's also a test that I regularly perform and recommend to all of my high-risk heart disease patients.
It's superior to any stress test when it comes to gauging cardiovascular risk. In order for a stress test to turn up positive results, your coronary arteries need to be at least 70 percent blocked. Not so with coronary artery calcium scores.
This test is highly predictive, which means you know with a fair degree of certainty if you're at high risk for heart disease. I also like it because coronary artery calcium is a marker of subclinical disease — which means that this test can identify the earliest signs of heart disease, long before it becomes a major problem. Which gives you plenty of time to do something about it. (If your results are very low, so is your risk. If not, it's time to get busy.)
In this study, results showed that roughly half of the subjects had no coronary artery calcium. Just over a quarter had scores between 1 and 99. And just under 25% had scores of 100 or higher.
But get this: Those subjects who drank at least one cup of tea daily had a 36 percent lower rate of coronary artery calcium, compared to those who didn't drink any tea. And tea-drinkers were also 27 percent less likely to see coronary artery calcium levels worsen over time.
Coffee didn't provide the same benefit — at least, not in this study, where the cardiovascular effects of a daily cup of coffee were merely neutral. (Overall caffeine intake had no impact on heart-related events either.)
The good news, though, is that no matter which drink you prefer to sip in the morning, there's certainly no reason to feel guilty about it… And now you have yet another compelling one to keep filling up that mug.
And in the meantime, you can learn even more natural ways to keep your heart healthy in my special report The World's Easiest Heart Disease Cure. Click here to find out more or to order a copy today.
Source: