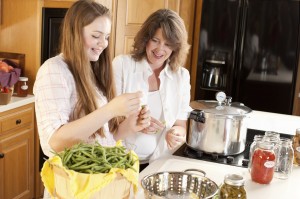 As you know, childhood obesity is a topic I'm particularly passionate about, having been an overweight child and knowing the damage it does—both to the body and to the psyche.
And some recent research I read prompted me to bring the subject up again. According to a new study, while most teens' weight loss attempts don't work, the ones who do lose weight successfully, quite simply, do it for themselves, rather than to please their (bullying) peers or (over-pressuring) parents.
The study wasn't an intensive one, but it was substantial nonetheless: researchers at Brigham Young University looked closely at the success stories of 40 teens who were formerly obese or overweight. They'd lost an average of 30 pounds each, and they'd maintained this healthy weight for at least a year.
When asked what the primary motive was for their weight loss, more than 60 percent noted their health. And in the interviews, nearly all of the teens said that losing weight was their own decision.
Consistent healthful eating, rather than crazy crash diets, worked, too. "None of these teens in our study lost weight in a hurry," said the lead researcher. "Their advice to other teens is to stay the course and sustain it over the long term."
Parental support helped too: many of the teens indicated that parents helped by giving them healthier meal and snack options. If you need some inspiration on how to make the switch, check out some of the recipes available on my website…like my kid-tested-and-approved "whipped faux-tatoes."
And keep in mind, some of the healthiest foods you can give your kids are things they already love. Like chocolate. Yes, chocolate. As long as it's dark chocolate (preferably at least 70-80% cacao), it can absolutely be a delicious part of an overall healthy diet. In fact, one study showed it can actually help teens lose weight.
But another factor that made a big difference in helping the kids in this study succeed was seeing their parents model healthy behavior—something I'm constantly urging you to do for your kids and grandkids.
When it comes to helping kids be as healthy as they can be, it's not enough just to "talk the talk." It's essential for them to see you "walking the walk." Literally AND figuratively.
Source:
"A Qualitative Study of Successful Adolescent and Young Adult Weight Losers: Implications for Weight Control Intervention." Childhood Obesity 2014; 10(6): 482-490.