Medicine 369 offers a variety of intra venous therapies including, Chelation, Immune Enhancement, IV Vitamin C; glutathione along with injections of B12 and minerals..
These are treatments that we give in the office whereby you are taking high doses of vitamins and minerals directly into your vein. By doing this, your body is able to tolerate doses that you could never take by mouth; and the vitamins get absorbed more readily. I take one whenever I feel a cold coming on and it wards it off each time. But that's just one of the many uses of IV therapies.
I have developed formulations to handle many of your daily concerns including: weight loss (people love this one), fatigue, brain power, macular degeneration, arthritis, shingles, hepatitis, immune enhancement, and even one that helps to support your immune system if you have cancer or had cancer. Most of the formulations include glutathione which can only be absorbed intravenously. This is a powerful anti-oxidant and liver detoxifier. It is a must for most people. Some patients only come in for this alone. Each formula is different and has ingredients specific to that particular disease state, so each one is unique and made specifically for you and your particular health needs. While I think everyone can benefit from IV therapy and I can quite honestly say that once you've gone IV, it's hard to turn back; it's the patients who really swear by their treatments. They don't like to miss a treatment!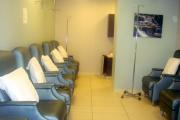 The thing I like the best about the IV therapies, apart from the fact that they work; is the actual IV room itself. And it's not just because the room is beautiful and the chairs are so comfortable – in fact, one of my patients bought the chairs for their own use at home. The best part is the camaraderie and the support that the patients give each other. They interact; discuss health, politics (I stay out of the room on that day) and all sorts of things. The staff is amazing and the entire atmosphere is very therapeutic.
The room is different on different days because of the uniqueness of the people who choose this therapy; but, each day is a positive health experience and not only due to the ingredients of the IV. I encourage you to ask for an IV or at least to discuss it when you come see me. And as far as Saturdays go, the IV room is party central – and you know who you are…