Yesterday, I talked about the misunderstood hormone that could be making your joint pain worse: Leptin.
If you suffer from arthritis pain, back aches, shoulder pain, stiff and sore knees, wrist pain, knuckle pain, or any kind of joint pain, you need to know about leptin. When you have too much of it in your body, it can speed up the progression of arthritis—causing your joints to become damaged and agonizingly painful faster than they normally would.
When I share this information with friends, relatives, and patients for the first time, they immediately ask me, "How can I tell if leptin is causing my joint pain?"
Unfortunately, there aren't a lot of practical testing methods available. In studies, researchers did it by extracting synovial fluid from the joints and measuring the amount of leptin in it. But that's invasive…expensive…and not practical for you and me in the real world.
Instead, I've developed a simple, effective way to help my patients find out whether leptin could be causing their pain.
All you have to do is ask yourself these 3 simple "True or False" questions: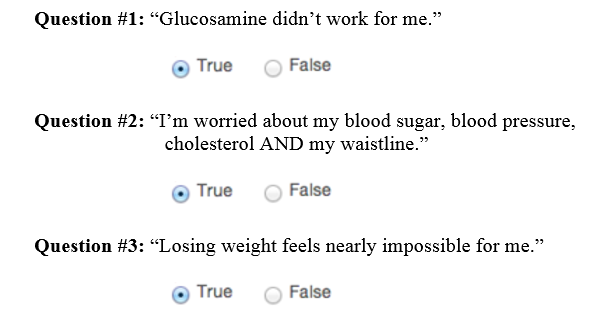 Now I realize that some of these questions might seem unrelated to joint pain. But if you marked "True" to even one of these questions, stay tuned…
Later today, I'll show you what your answers could mean, and I'll reveal how I've been using this simple quiz to take a new approach to promoting healthy joints at my clinic.
In the meantime, check out what else we've been talking about in the Reality Health Check this week…