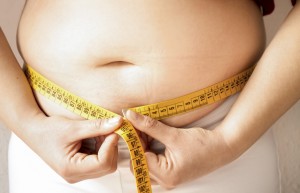 Since we're on the subject of kids and obesity today, here's yet another risk you need to know about before you buy your kid, grandkid, niece, nephew, etc., that supersized McDonald's meal.
New research from a Swedish study shows that being overweight in teen years could more than double the risk of bowel cancer by middle age.
This study is extremely comprehensive: The researchers tracked the health of almost 240,000 Swedish men (between the ages of 16 and 20), who enlisted in the military in 1969-1976. They had a health check at enlistment, which included looking at weight and height, as well as at levels of erythrocyte sedimentation rate (ESR). ESR is an indicator of inflammation that's linked to risk of certain cancers, including bowel cancer. The men were then monitored for bowel cancer up to 2010, using data from the country's national cancer registry.
In the 35 years they were monitored, 885 of the men developed bowel cancer. Compared with those whose weight was within the normal range when they enlisted (BMI 18.5-25 kg/m2), those who were very overweight (BMI ranging between 27.5 and 30 kg/m2), were twice as likely to develop bowel cancer.
So overall, obesity in young adulthood, classified as a BMI of more than 30, was associated with a 2.38-times-higher risk of developing bowel cancer.
And among men without bowel disease, those with a high ESR (15+ mm/hour), had a 63 percent higher risk of developing bowel cancer than those with a low ESR (less than 10 mm/hour).
This is an observational study, so cause and effect cannot be directly established. But that doesn't stop me from saying: feed your kids well. I wrote a book on it (literally). You can order a copy here.
Or search the archives at drpescatore.com and get plenty of tips and information for free by typing terms like "kids' health" into the search bar in the top-right corner of the homepage.
Source:
BMJ. "Very overweight teens may double their risk of bowel cancer in middle age." ScienceDaily. ScienceDaily, 26 May 2015. <www.sciencedaily.com/releases/2015/05/150526085734.htm>.