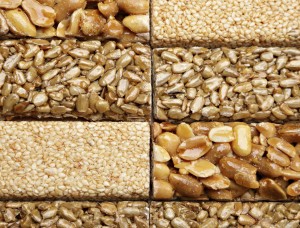 I want to expand a bit on something I briefly mentioned in a Facebook post recently, because it's a topic that's just too disturbing to drop.
As I've noted, the good ol' FDA is cracking down on the maker of KIND Bars for labeling a number of its products as healthy. A number of KIND snack bar varieties — including Almond & Apricot, Almond & Coconut, Peanut Butter Dark Chocolate + Protein, and Dark Chocolate Cherry Cashew — are in the hot seat.
Some of the FDA's complaints are that the bars don't have enough protein to use the "plus" symbol, and also can't universally be called "antioxidant-rich" or a "good source of fiber."
But, most concerning to me, the FDA says they have too much saturated fat to be called "healthy." For instance, the Almond & Coconut bar has 5 grams of saturated fat, and the Almond & Apricot bar has 3.5 grams. The FDA recommends "healthy" snacks have no more than 1 gram of saturated fat per serving.
OK, this is where I get upset.
I'm not here to say KIND bars are an amazing health food. There are many varieties, and my personal opinion is they range from just OK-at-best (the fruit-packed versions) to rather good options (the nut-heavy, lowest-sugar ones). But that "rather good" becomes VERY good when compared to the "reduced-fat" options filling grocery stores, which might actually pass the FDA's fat test, but still contain plenty of carbs, sugar, grain, etc. — all categories that the FDA seems comparatively lax on.
This is a case of archaic labelling laws and ridiculously warped priorities. These folks need to stop penalizing comparatively innocuous foods like this, and instead, go after the sugary foods that continue to line the shelves.
Here's KIND's statement, in response to the FDA's scolding: "Nuts, key ingredients in many of our snacks and one of the things that make fans love our bars, contain nutritious fats that exceed the amount allowed under the FDA's standard. …This is similar to other foods that do not meet the standard for use of the term healthy, but are generally considered to be good for you like avocados, salmon and eggs."
Kudos to them for saying this. This is a page right out of my own book, and I'm glad to hear it being echoed.
Going after the saturated fat in nuts is the dictionary definition of ridiculous. Especially given what I've told, and shown you, before: Saturated fat is NOT THE ENEMY! Sugar is!
If you want an overview that proves it, read my article, "The great fat-free fake-out," which appeared in the February 2015 issue of my monthly Logical Health Alternatives newsletter. Paid subscribers can access this issue—and the complete archive—by visiting www.drpescatore.com and logging in to the Subscriber area of the website. If you're not already a paid subscriber, you can sign up here.