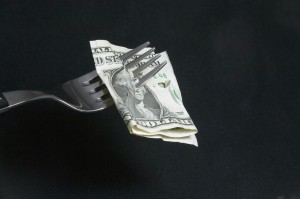 Just a little over a month ago, I wrote about the widening gap in healthy vs. non-healthy food prices. Now, another study has come out that proves this sad theme true yet again.
This study focused on diabetes specifically. And it showed that difficulty paying for food and medications is associated with poor control of the disease.
I'm going to set the medication aspect of this equation for the time being. (Otherwise, I'll get started on an epic rant about how doctors deliberately fail to tell people they have pre-diabetes just so they can proceed to a full-blown diagnosis…and become prime candidates for any number of prescription drugs.)
Instead, let's focus on the food part.
The study's researchers, from Massachusetts General Hospital, looked at 411 patients and found that 19.1 percent reported "food insecurity" (difficulty paying for food). And poor diabetes control was cited in 46 percent of patients.
The study's results showed that food insecurity was associated with greater odds of poor diabetes control and increased outpatient visits.
This proves one point I've made before: No matter what your income, spending wisely on the foods you buy is a priceless investment in your health.
Yes, a box of mac 'n cheese is cheaper than a head of lettuce…but you'll wind up paying far more for it down the line. Budgeting a little more on healthy food up-front will result in lower health-care costs later on, so it's worth it in the long run.
Still, I know that a lot of folks have a hard time even making that extra financial commitment, due to the extremely high cost of so many organic fruits and vegetables and free-range, grass-fed meats.
If you're on a fixed income, just stay in the perimeter of the supermarket and you'll be OK. If all you can afford is non-organic fruits and vegetables, it's still better to buy those than to give up and head for the cake mix.
Also, take a few minutes and tally up what you spend on regular trips to chain restaurants, and add it directly to your grocery budget. I don't want to kill your fun, but those supposedly "wallet-friendly" restaurants can put a big dent in your budget—and your health. With a little additional planning, a healthy meal at home can be within financial reach, is just as satisfying, and will make you feel a lot better.
I know this all may sound easier said than done when you're working with limited financial resources. But I take a tough line on this issue because I want your retirement funds to put you in cushy hotel beds (in beach resorts) … not hospital beds, which, believe it or not, are far more expensive than an ocean-view suite at the Four Seasons.